Ask any Georgetown artist to tell you about their favorite art project, and the answer will always be…anything clay!  Here's a peek at some of the clay projects we are working on.
Fifth grade knee bowls – roll a slab and form a bowl on your knee.  Who knew your knee could be a perfect bowl shape?
Fourth grade slab picture frames.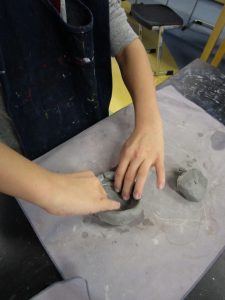 Third grade coil pots – we'll squeeze some clay through a garlic press and add it to the top to create a bird nest!
Second grade slab houses – can't wait to add the texture and details.
First grade pinch pots with texture.
Kindergarten texture necklaces – they can't wait to finish these and wear them home!
Soon we'll be adding more details to finish up these projects, and then the firing begins.