Just before spring break, Georgetown artists carefully wrapped their clay projects and took them home.  Here's a look at their clay creations!
Firsties learned how to make a pinch pot, glaze it, and finally add a little bead and wire embellishment.
Second graders created cute pinch pot birds.  They learned how to score the clay and add water to attach the eyes and beaks to their birds.  After glazing they added feathers to give their critters lots of personality.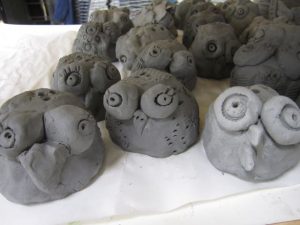 Each year third grade artists learn how to make a coil pot.  They had fun adding a snake to their coil pots!
Fourth graders loved creating their wall pockets, and had big plans to use their projects to hold pencils, notes, and even cell phones!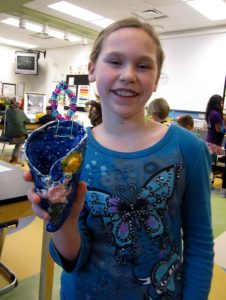 Fifth graders tried a new project this year – awesome texture plates that sit on little feet.  Their plates are really amazing!