Georgetown fifth graders are so thrilled with their 3-D winter stars!  This project has it all – a little origami with mountain and valley folds, intricate drawing and coloring options, mindful glueing, chalk highlighting, and writing…with (bonus!) fancy silver sharpies.  I love the thoughtful ideas about winter and the holidays that they wrote about to create their star backgrounds.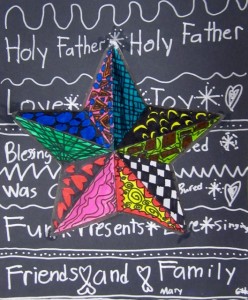 Check out the 3-D effect – the careful folding was a challenge for almost everyone.
Learning goals: Demonstrate a mountain and valley origami fold, use pattern, line and words to create a work of art, explain the meaning of 3-D.
This project was inspired by the always amazing Tennessee art teacher Cassie Stephens – see her Super Star project post here. 
See 90 more of our beautiful stars on our ARTSONIA on line art gallery here.