Today I had the pleasure of sitting in a cushy chair and watching someone else work!  I visited my mentee, Mrs. Nienhouse, at South Elementary and enjoyed seeing her work some art magic with her students.  We had a fun morning, and I was impressed with Mrs. Nienhouse's planned projects AND her fabulous students.  Here's a look at some of the things they are working on – couldn't resist showing them off!
model magic turtle
pinch pot – painting with complementary colors
Here are some completed projects from the hallway displays.
  beautiful birch trees!
Matisse collage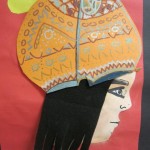 Egyptian portraits
Cities with Van Gogh sky
Nice work, Mrs. Nienhouse!  Thanks for letting me visit today.