The cultural focus this year in art class is Asia, and the Kindergarteners are focusing on the country of India. There is a tradition in India that happens every year called the Elephant Festival. The elephants are painted with beautiful colors and designs. The students learned interesting facts about elephants from India and compared them to elephants from Africa. Did you know that elephants from India are smaller than elephants from Africa? The artists created their own elephants by sponge painting gray paper to create texture that looked like wrinkly elephant skin. They used their painted paper to create these wonderful elephants. Their favorite part was picking out the beautiful jewel for their elephant to wear on it's head.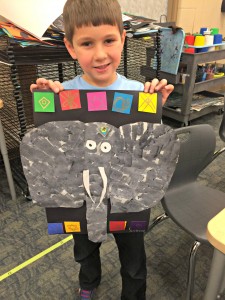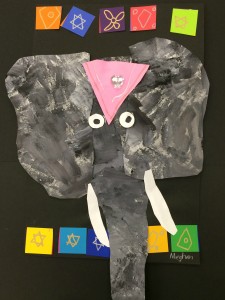 This project was inspired by the elephant project from the blog 'Art with Mr. Giannetto.'
Learning Goals:
I can create texture.
I can create a collage.