Fifth Grade artists learned about the ancient kingdom of Chancay, a Pre-Columbian civilization located along the coast of Peru.  Our artists created model magic figurines that were inspired by the ceramics made by the Chancay people.
 Clay idol from the Chancay culture.
 They began with "thumbnail" sketches in their sketchbooks.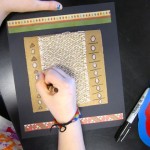 Creating the background – a bit of recycle art with cardboard and some awesome texture made from a donation of window shade samples.
Creating and painting the Chancay figures using Model Magic.  Students recalled our earlier color unit and talked about Earth tones and neutral colors.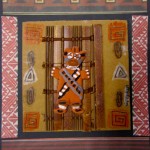 Finished pieces.  Aren't they wonderful?
Michigan Visual Arts Standards: 
Compare and contrast works of art as belonging to
particular cultures, times, and places.  
Demonstrate how history, culture, and the visual arts
interrelate in making and studying works of art.