We've been all about the bunnies in first and second grade here at Georgetown.  What's not to love about these hoppers?!
First graders painted a bright background and used their best cutting and glueing skills to add their bunnies on top.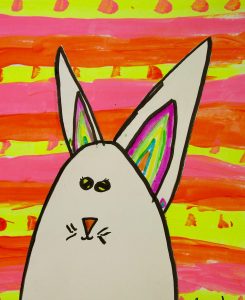 Second graders worked on their drawing skills (and patience!) to create these cuties.
This 2nd grade project has been all over Pinterest, so I'm not sure who to credit…but we sure did enjoy it!
Parents…these bunnies will show up on ARTSONIA ….soon-ish!