Whew, what a crazy ArtPrize ride it has been!  Our project began last May with the delivery of 600 rocks that our Georgetown kiddos washed and then painted with white acrylic paint.  Fast forward to September and two gloriously messy and busy weeks spent turning our rocks into painted fish.
And then…our little fish swam off to ArtPrize to join 5,000 other fish created by Hudsonville Public School's artists in grades PK-12. And WOW can you believe it…we WON the ArtPrize Youth Entry!  Many, many thanks to our parents, grandparents, aunts, uncles, and friends for voting for our "You Be You" entry – we are beyond grateful and so excited to accept the $5,000 entry prize!  The Hudsonville art teachers will meet very soon to decide how we will honor our students with the ArtPrize funds.
What's next?  Mrs. Brouwer and her trusty Jessie Jeep lugged 8 crates filled with Georgetown's rocks back to G-Town….and with the help of Rob, the Most Amazing Custodian in the World and Mr Kooiker's 4th Grade class, we permanently installed the rocks along our front entryway today.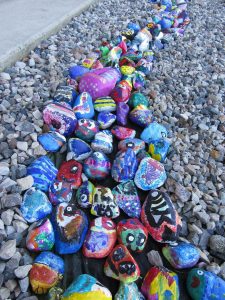 We still have some tweaking to do, and Mrs. B. needs to make a sign…but stop by Georgetown and visit your rock. You'll love it!