Ringing in the New Year….and looking back at a few of our December "wintery" art projects!
Second grade Matisse Winter Collages. After learning about the brightly colored collages created by Henri Matisse, second graders painted paper with dots and learned how to do some fancy cutting to create their Matisse inspired collages.  Once they got the hang of using both the positive and negative space from their cut trees, their collages really came to life.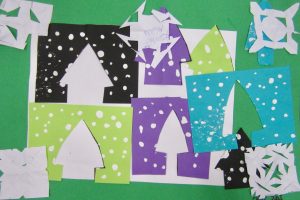 Third grade Colorful Candy Canes.  Third grade artists were challenged to use as many different color families to color their canes.  See if you can find: warm/cool, complementary, primary, secondary, rainbow, and of course…their own favorite color combinations!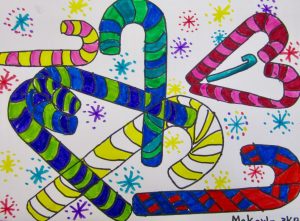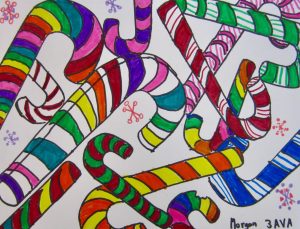 Fourth grade Zentangle Trees.  Fourth graders practiced their zentangle skills as well as working with different media – a salt/watercolor wash and some tricky tape tearing for their trees.
Fifth grade radial art snowflakes.  Fifth grade artists explored radial art patterns while creating these colorful "designer snowflakes".
Parents!  Many of these pieces can be found on our on-line art gallery ARTSONIA.  Here's the LINK.