Need a smile?  Take a look at the Elmos that Georgetown Kinders created!
Their Elmos began with the paint brushes that Kindergarteners designed in Mrs. Totten's STEAM class. Later in art class, they explored the kinds of lines and marks their brushes made as they painted their red Elmo heads.
Kindergarten Steam Brushes
After adding Elmo's face and a winter hat, a whole lotta Elmo cuteness happened in the art room!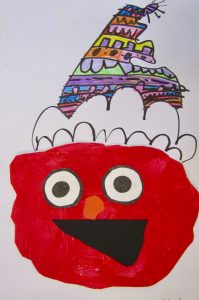 Parents, visit Artsonia, our on-line art Gallery to see your child's Elmo HERE.