It is time to let you know what the HPS Art Teachers have been up to!  Drum roll please….every single Hudsonville art student will have an art piece on display in this fall's ARTPRIZE NINE.  You heard it right – our students will have group project entered in ArtPrize, the international art competition that takes place in downtown Grand Rapids every fall.  This year's ArtPrize runs from September 20 – October 8.  Read more about ArtPrize here.
So, what are we going to enter?  Our project is the brainchild of two of our amazing art teachers, Maggie Bandstra (Alward Elementary) and Celine Nienhouse (South Elementary).  Inspired by a project and book titled "Only One You" by Linda Kranz, Maggie and Celine will have us all painting ROCKS!
We are really excited to tell you that Maggie and Celine have secured an AMAZING venue for our youth project – the Devos Place Convention Center!
Follow these links for our ArtPrize "You Be You" entry and for more information on the Devos Center: You Be You   Devos Convention Center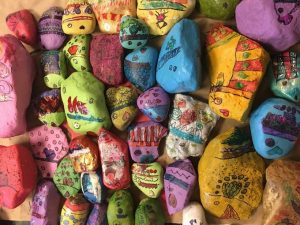 Get ready to vote for our ArtPrize entry – number 66018!
The HPS Art teachers are really looking forward to this upcoming project. HUGE thanks to Maggie and Celine for getting over 6,000 rocks donated and delivered, and for securing one of the best ArtPrize venues available for our display.  Special thanks to author Linda Kranz for generously approving our project, and to Jessica Moyes at Sharon Elementary for the project inspiration.
We'll keep you posted as the project continues!