Second grade artists were inspired to create these fun moose drawings after looking at the book "Mooseltoe" by Margie Palatini.
We used many different media and techniques to complete this project – stencils and crayons for the snowflake background, crayons and tempera paint for the antlers and head, and finally construction paper and silver sharpies for fun ornaments.
Each moose has its own personality…they all make me smile!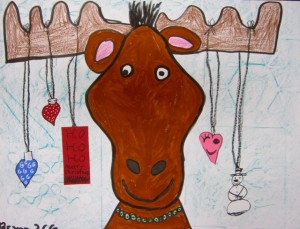 See lots more of these cute mooses at our Artsonia art gallery here.  Parents, it's not too late to order your child's personalized art keepsakes at our Artsonia gallery – check it out!
Thanks to Sharpies, Paint, & Paper Blog for the project inspiration!