Fifth Grade artists really loved their Georgia O'Keeffe project!  They learned that O'Keeffe liked to fill the picture space and work BIG.  They were also surprised to discover that O'Keeffe was often upset with her art instructors because they wanted her to follow their rules and create art the way they taught her….and O'Keeffe wanted to experiment with her art and do her own thing!
There was pure excitement in the room as they learned about their assignment: to find an object in the art room, sketch it in their sketchbook, and then…draw BIG.  It was fun to watch the process; some kids knew right away what they wanted to draw, and others experimented with several items until they were happy with their choice.  Others brought items in from home to make their own still life composition.  Check out their concentration as they begin their Giant Georgias!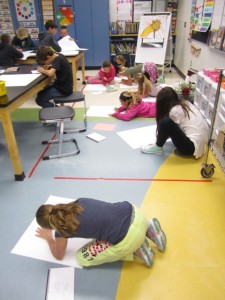 Their finished projects are fabulous – each student's personality really shines through!