First graders began exploring color this week by meeting….Roy G. Biv.  As they created their own Rainbow Roys, they became experts at recognizing the colors of the rainbow – Red-Orange-Yellow-Green-Blue-Indigo-Violet!
  Check out the rainbow order teeth!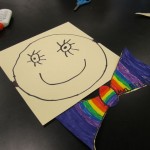 Color Mixing – Painting Roy's Hair
This lesson is borrowed from Mrs. Bumgardner's 1st Grade Classroom Blog.  Thanks Mrs. B. for inspiring a new way to teach the colors of the rainbow!