My second grade artists created these beautiful sunflowers this week.  We looked at Van Gogh's Vase of Sunflowers and focused on a single sunflower, using careful shading in oil pastel to create our work of art.
Vincent Van Gogh's Sunflowers
We learned about shading and value last fall with our pumpkin project – my second graders remembered this and did a beautiful job shading the sunflower petals.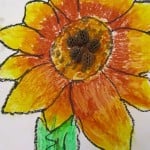 Finishing touch – I hot-glued seeds in the centers.