My kinders had a blast making these bowls full of fish!  I couldn't believe how excited they were to fill their bowl with fish and a castle for the fish to swim through.
We began by looking at Paul Klee's "Around the Fish" print.  My little people loved looking at all the objects around the fish, and the texture (our new art word!) on the fish itself.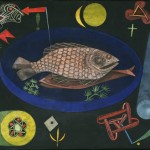 We drew big fish bowls on tag board, cut them out, drew and colored our fish, and finished with a splash of blue watercolor.  It was a busy 50 minutes, but check out our cool bowls of fish!
And…thanks to Julie over at Art For Small Hands for this idea – I had to switch it up a bit to work for my big classes of kinders, but her very cool idea gave me the inspiration for this fun project that my kids absolutely loved!