Last week's snow days off – lovely as they were – have really made a jumble of the art room schedule.  I've got kids in all different stages of many projects, which makes me a little bit frizzled.  So some of my kiddos who are way ahead of the other classes have been doing some fun little Valentine projects while the other classes catch up.  They are having a blast and I'm enjoying chilling with them a bit too!
Kindergarten Heart Flowers
Second Grade Flower Pots
Surprisingly, these goofy Love Bugs created by First and Second grades were their favorite!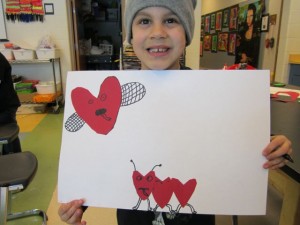 Caterpillar and Fly Love Bugs – and the artist is pretty cute too!