We've had several inches of snow this week, to the delight of our students.  Makes a nice tie-in to the snowflake project that some of my classes have been enjoying.  Since some of my classes are playing "catch up" with other projects, I started these snowflakes in some of my 5th and 3rd grades.  I think this was a project I saw on Artsonia – so if it's yours, let me know so I can give you credit for a project that my students are loving!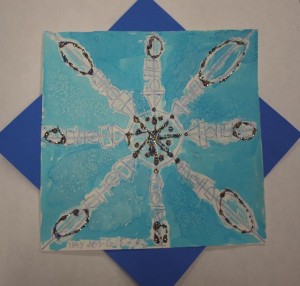 We drew our snowflakes with crayon and then outlined them with oil pastel – my kiddos enjoyed the way the oil pastel made the crayon look all "foggy".  Then we painted over the snowflake with watercolor and added salt on top.  During the next class we rubbed the salt off to reveal beautiful splotches and textures.
And finally – a little splash of glitter.  Now I know some of you art teachers out there don't like glitter…so sorry about breaking the glitter ban….but ya gotta have a little glitter on a snowflake!
Putting on The Glitz!