We are keeping soooo busy in the art room!  Here's a look at what our second graders have been working on.
Second graders were excited to begin a new robot project this week!  If you look carefully, you'll see that the robot head is made by tracing around an electrical outlet plug cover.  And the arms and legs….well, you know Mrs. Brouwer can't throw away anything…including the plastic trays that hold sets of watercolors!  Great for robot arms and legs!  Can't wait to see these when the kids begin adding color.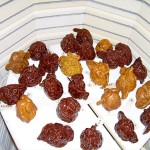 Second grade owls…still cooling a bit in the kiln.